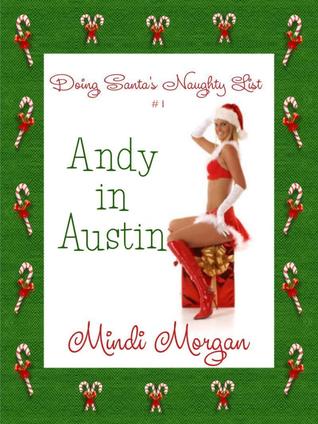 Andy in Austin, Doing Santa's Naughty List, #1, is the first in a series of Christmas shorts. While there will eventually be a happily-ever-after for the two key characters, it should not be classified as a romance. It's erotica, plain and simple. Amber and Arlin have sex with others, away from each other and while together. If you're funny about main characters doing other people - often the same sex - as they work their way toward their happily-ever-after, this series will not be for you.
Amber is the only half-human, half-elf in the North Pole. Being different doesn't stop her from having fun and enjoying life. After getting caught up in an embarrassing situation on her twenty-first birthday, Amber's forced to take on a new position, appropriately titled the Doer of Santa's Naughty List. The job consists of fulfilling fantasies of some of the men and women who are too naughty for Santa's Nice List. Determined to do what's required or risk being kicked out of the only home she's ever known, Amber jumps into her new position with horny gusto. With a little help from Arlin, one of Santa's senior elves, it should be a cinch, right? Well, not quite. Santa Claus has set her up to fail.
The first assignment has Amber and Arlin trying to bring a young man and his stepmother together for a little naked time. Andy has wanted Janet for as long as he can remember. Janet, on the other hand, seems about as interested in having sex with her stepson as getting a root canal.
Can Amber and Arlin succeed in getting the two together or does Amber fail in her position before she even has a chance to get started? And how many times can she convince Arlin to get naked with her before the assignment is over?